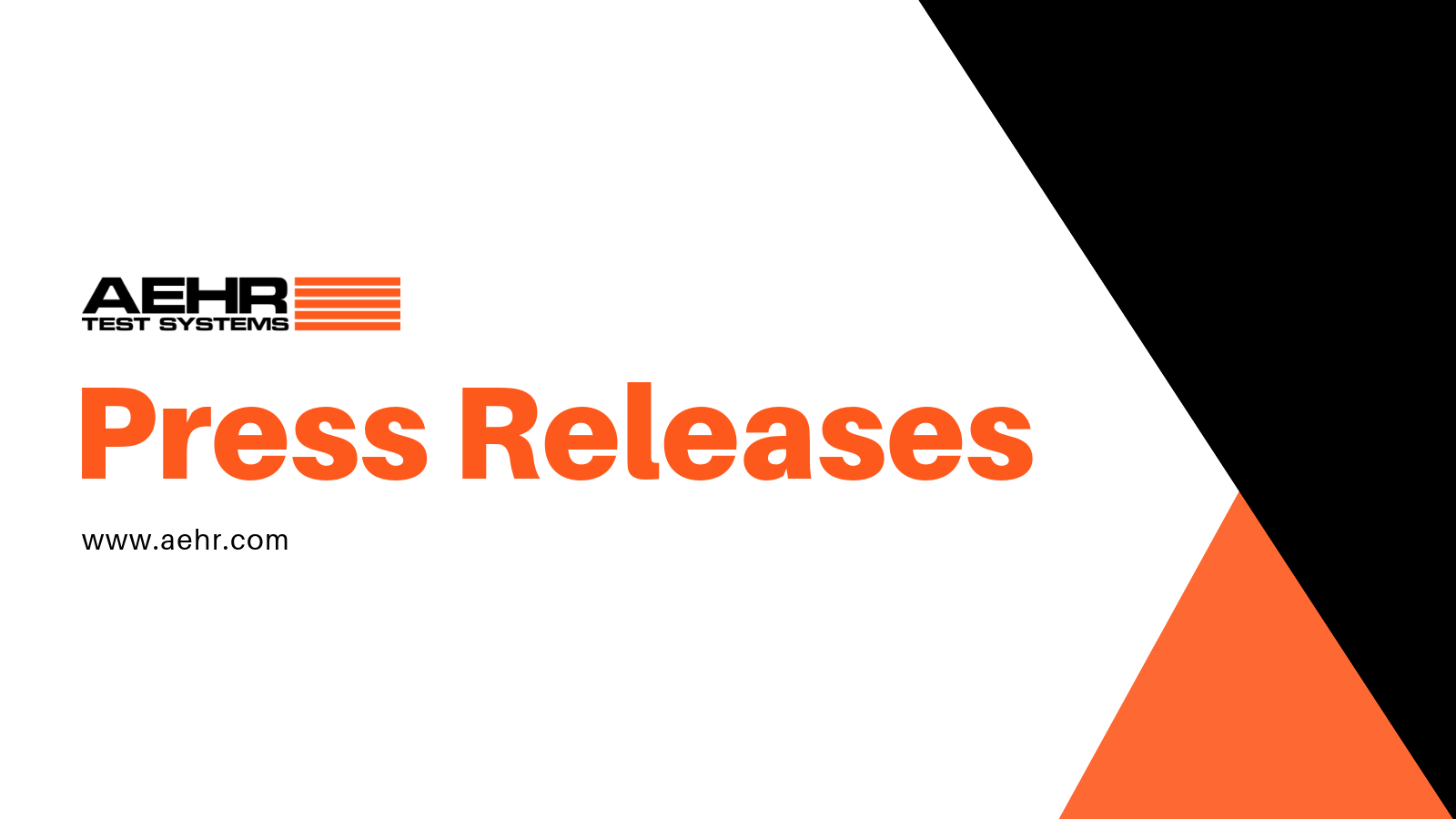 Aehr to Exhibit at the International Reliability Physics Symposium March 11-15, 2018
March 8, 2018
Comments Off

on Aehr to Exhibit at the International Reliability Physics Symposium March 11-15, 2018
Aehr today announced that it will exhibit at the International Reliability Physics Symposium (IRPS) taking place March 11-15, 2018 in Burlingame, California.
FREMONT, Calif., (GLOBE NEWSWIRE) — Aehr Test Systems (NASDAQ:AEHR), a worldwide supplier of semiconductor test and burn-in equipment, today announced that it will exhibit at the International Reliability Physics Symposium (IRPS) taking place March 11-15, 2018 in Burlingame, California.
The Company will be showcasing its solutions for burn-in and test of logic, optical and memory devices in die, wafer, packaged part or module form, including its FOX-XPTM next generation test and burn-in system for high volume production and early failure rate (EFR) test.
"The rapid growth of electronics, sensors and integrated optical devices in the automotive market and in mobile and computing applications is driving substantially higher requirements for initial quality and long-term reliability," said Gayn Erickson, President and CEO of Aehr Test Systems. "Integrated optical components in mobile devices, high-performance servers, data centers, and automotive applications are increasing with every new product generation. We believe these new applications are driving an entirely new level of quality and reliability expectations for these systems. Automotive technologies include ADAS capabilities such as collision avoidance systems using laser, LIDAR (Light Detection and Ranging), and RADAR or other sensing technologies. More and more new vehicles now include as standard capabilities collision avoidance systems that detect obstacles and monitor the vehicle's surroundings to notify the driver of dangerous conditions and take evasive action.  IRPS offers an excellent forum for companies to share their ideas and methods to address the increasing safety and reliability requirements of these applications."
IEEE International Reliability Physics Symposium (IRPS) is the premier conference for engineers and scientists to present new and original work in the area of microelectronics reliability. Drawing participants from the United States, Europe, Asia, and all other parts of the world, IRPS seeks to understand the reliability of semiconductor devices, integrated circuits, and microelectronic assemblies through an improved understanding of both the physics of failure as well as the application environment. IRPS provides numerous opportunities for attendees to increase their knowledge and understanding of all aspects of microelectronics reliability, and to meet and network with reliability colleagues from around the world. Additional information on the conference can be found on the IRPS website at www.irps.org.
About Aehr Test Systems
Headquartered in Fremont, California, Aehr Test Systems is a worldwide provider of test systems for burning-in and testing logic, optical and memory integrated circuits and has an installed base of more than 2,500 systems worldwide. Increased quality and reliability needs of the Automotive and Mobility integrated circuit markets are driving additional test requirements, incremental capacity needs, and new opportunities for Aehr Test products in package, wafer level, and singulated die/module level test. Aehr Test has developed and introduced several innovative products, including the ABTSTM and FOX-PTM families of test and burn-in systems and FOX WaferPakTM Aligner, FOX-XP WaferPak Contactor, FOX DiePak® Carrier and FOX DiePak Loader. The ABTS system is used in production and qualification testing of packaged parts for both lower power and higher power logic devices as well as all common types of memory devices. The FOX-XP system is a full wafer contact and singulated die/module test and burn-in system used for burn-in and functional test of complex devices, such as leading-edge memories, digital signal processors, microprocessors, microcontrollers, systems-on-a-chip, and integrated optical devices. The WaferPak contactor contains a unique full wafer probe card capable of testing wafers up to 300mm that enables IC manufacturers to perform test and burn-in of full wafers on Aehr Test FOX systems. The DiePak Carrier is a reusable, temporary package that enables IC manufacturers to perform cost-effective final test and burn-in of both bare die and modules. For more information, please visit Aehr Test Systems' website at www.aehr.com.
Contacts:
Aehr Test Systems
Vernon Rogers
EVP Sales and Marketing
(510) 623-9400 x215
vrogers@aehr.com
MKR Investor Relations Inc.
Todd Kehrli or Jim Byers
Analyst/Investor Contact
(213) 277-5550
aehr@mkr-group.com