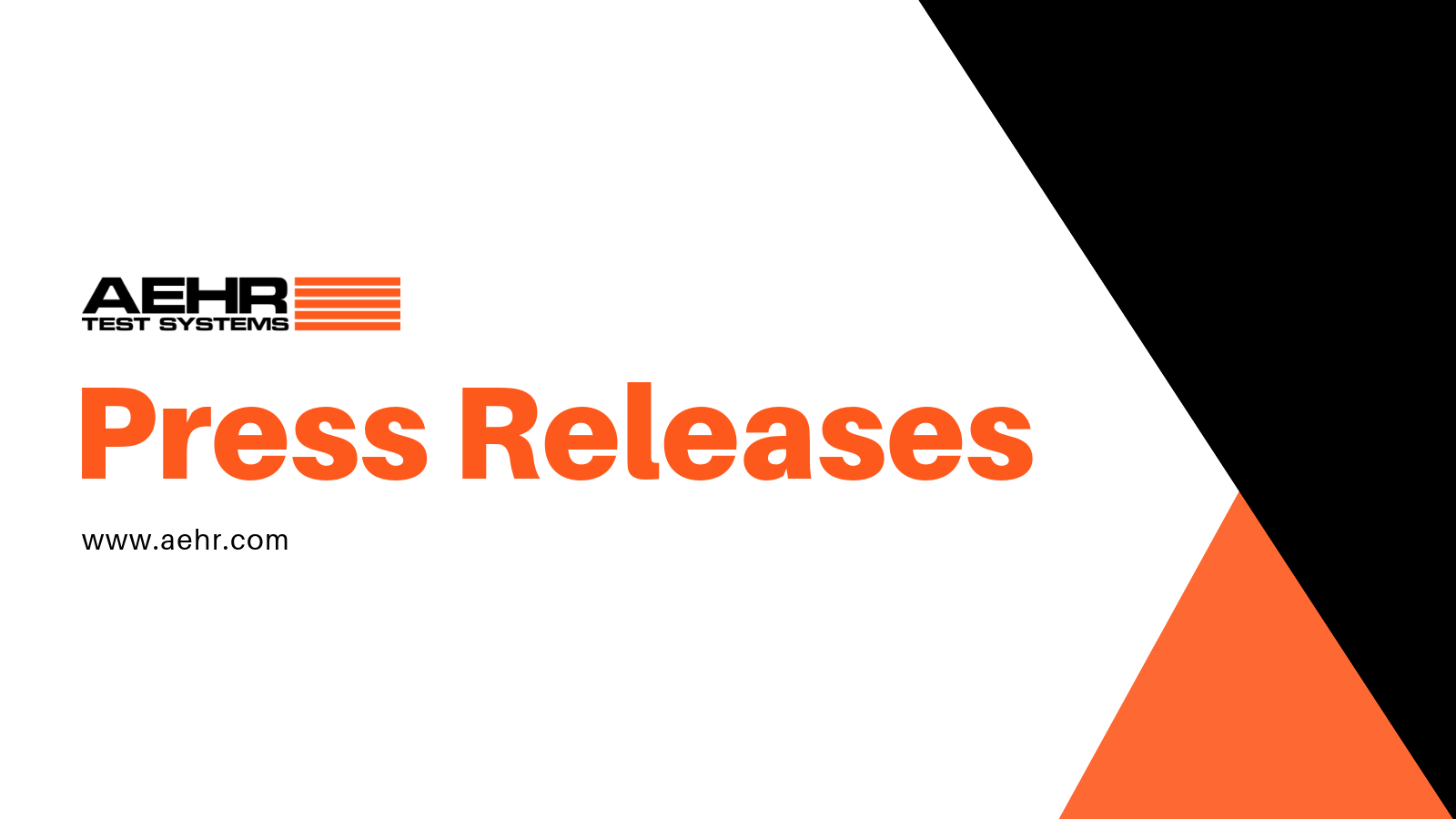 Aehr Reports Continued Strong Revenue and Earnings for the First Quarter of Fiscal 2024 on Strength of Production Wafer Level Burn-in Products for Silicon Carbide Semiconductors
October 5, 2023
Comments Off

on Aehr Reports Continued Strong Revenue and Earnings for the First Quarter of Fiscal 2024 on Strength of Production Wafer Level Burn-in Products for Silicon Carbide Semiconductors
Fremont, CA (October 5, 2023) – Aehr Test Systems (NASDAQ: AEHR), a worldwide supplier of semiconductor test and production burn-in equipment, today announced financial results for its first quarter of fiscal 2024 ended August 31, 2023.
Fiscal First Quarter Financial Results:
Net revenue was $20.6 million, up 93% from $10.7 million in the first quarter of fiscal 2023.

GAAP net income was $4.7 million, or $0.16 per diluted share, up from GAAP net income of $589,000, or $0.02 per diluted share, in the first quarter of fiscal 2023.

Non-GAAP net income, which excludes the impact of stock-based compensation, was $5.2 million, or $0.18 per diluted share, compared to non-GAAP net income of $1.3 million, or $0.05 per diluted share, in the first quarter of fiscal 2023.

Bookings were $18.4 million for the quarter.

Backlog as of August 31, 2023 was $22.3 million. Effective backlog, which includes all orders received since the end of the first quarter, is $24.0 million.

Cash provided by operations was $3.9 million.

Total cash, cash equivalents, and short-term investments as of August 31, 2023 were $51.0 million, up from $47.9 million at May 31, 2023.
An explanation of the use of non-GAAP financial measures and a reconciliation of Aehr's non-GAAP financial measures to the most directly comparable GAAP financial measures can be found in the accompanying tables.
Gayn Erickson, President and CEO of Aehr Test Systems, commented:
"We finished the first quarter with solid revenue and non-GAAP net income, the strongest first quarter in our history, which has historically been our seasonally softest quarter. We are off to a very good start to our fiscal year and are reaffirming our expectation to grow fiscal full year revenue by at least 50% and profit by over 90% year over year.
"During the quarter we had record shipments of our FOXTM WaferPak full wafer Contactors in both revenue and units and are very pleased with the continued stream of new designs we are seeing. Our new design volume has tripled over the last nine months as we are seeing more electric vehicles coming online with their own specific device design for inverters and onboard chargers.
"We have now received customer acceptance of both configurations of our new fully automated FOX WaferPak Aligner, which allows hands free operation of WaferPak handling and alignment and is available either as a standalone unit or in full integration with the FOX-XP system. We recognized revenue for two standalone WaferPak Aligners in the first quarter and received customer acceptance and sign off on two fully integrated WaferPak Aligners with the integrated FOX-XPs in September. These acceptances and the associated revenue recognition are a great way to start our second quarter and pave the path for revenue recognition immediately upon future shipments of these products.
"Additionally, we announced last month our sixth customer for silicon carbide wafer level burn-in. This new customer is a US-based multibillion-dollar semiconductor supplier that serves several markets, including automotive, computing, consumer, energy, industrial, and medical markets. After conducting a detailed financial evaluation of Aehr and Aehr's FOX family of products, including multiple onsite visits to Aehr's application lab, this new customer purchased an initial FOX-NP system, WaferPak Aligner, and multiple WaferPaks for engineering, qualification, and small lot production of their silicon carbide power devices. This system is configured with our new Bipolar Voltage Channel Module (BVCM) and Very High Voltage Channel Module (VHVCM) options that enable new advanced test and burn-in capabilities for silicon carbide power semiconductors. This customer has indicated that as their production capacity increases, they intend to quickly move to our FOX-XP multi-wafer test and burn-in systems for high-volume production.
"Including this newest customer, our last two announced customers have selected our systems primarily for applications other than electric vehicles including industrial, solar, and commuter electric trains. This further extends our application space beyond the opportunity we see in silicon carbide for traction inverters and onboard and offboard chargers for electric vehicles. These applications expand our market opportunity to include what William Blair forecasts will be an additional 2.8 million 6" equivalent wafers needed per year by 2030 for applications beyond the 4.5 million 6" equivalent wafers per year it forecasts will be needed just for electric vehicles.
"We continue to see increased interest from prospective new customers for our solutions for silicon carbide wafer level burn-in. In the last few weeks, we have attended two international conferences in Europe and met with more than a dozen companies that are not currently using our solutions, in addition to meeting with all six of our current silicon carbide customers. These face-to-face meetings included multiple meetings with one of the market leaders in silicon carbide with whom we have been doing a significant automotive qualification of wafer level burn-in for well over two years. This benchmark and qualification process has made even more progress in the last few months with a very large number of wafers being run at our facility and multiple meetings and reviews of the data. We continue to feel confident that this customer will move forward with us using the FOX-XP multi-wafer solution for their high-volume needs, including initial purchase orders and system shipments within this fiscal year. In the next few weeks, we also plan to meet with a significant number of potential new customers as well as end users in Asia, as we are seeing increasing activities and opportunities heating up there. It is a very exciting time in the silicon carbide and electric vehicle markets right now and we have never been busier.
"We are also in extensive engagements with multiple gallium nitride suppliers, including companies that also supply silicon carbide devices. Gallium nitride is similar to silicon carbide in that both of these semiconductor compounds are considered wide bandgap semiconductors that are able to withstand high-voltage applications more directly than silicon. Gallium nitride semiconductor material has characteristics that make it optimal for lower power converter applications such as consumer power converters, solar micro inverters, and industrial motor controllers, compared with silicon carbide that is optimal for higher power / higher voltage applications such as traction inverters in electric vehicles, trucks, trains, and converters used in charging infrastructure and storage. The gallium nitride market is another potential growth driver for our wafer level solutions, particularly for automotive and photovoltaic applications where burn-in appears to be critical for meeting the initial quality and reliability needs of those markets. This fiscal year, while we do expect to recognize some revenue for systems, WaferPaks and Aligners for gallium nitride applications, we continue to expect a significant majority of our revenue to come from silicon carbide.
"In addition to these power semiconductor applications, we continue to be excited about the current application of silicon photonics devices for fiber optic transceivers used in data centers and data and telecommunication networks, as well as the major market opportunity we see with the upcoming application of silicon photonics integrated circuits for use in optical chip-to-chip communication. As we've previously announced, we received a first order from a current major silicon photonics customer for a new configuration of our FOX-XP multi-wafer test and burn-in system for use in very high-power silicon devices, and we expect to receive orders for additional production systems as they increase production of these devices. While we believe that it will likely be several years before we will potentially see significant revenue generated from this optical chip-to-chip communications market, we are working with some of the leaders in silicon photonics to ensure that we have the products and solutions available to meet their needs for this potentially significant market application. 
"In conclusion, we are encouraged by the continued positive momentum we are seeing for silicon carbide in electric vehicles and are also excited about the expanding growth opportunities we are seeing in several additional markets with current and prospective customers."
Fiscal 2024 Financial Guidance:
For the fiscal year ending May 31, 2024, Aehr is reiterating its previously provided guidance for total revenue to be at least $100 million, representing growth of over 50% year over year, and GAAP net income of at least $28 million, representing earnings growth of greater than 90% year over year.
Management Conference Call and Webcast
Aehr Test Systems will host a conference call and webcast today at 5:00 p.m. Eastern (2:00 p.m. PT) to discuss its first quarter fiscal 2024 operating results. To access the live call, dial +1 844-735-3765 (US and Canada) or +1 412-317-5712 (International) and ask to join the Aehr Test Systems earnings call.
In addition, a live and archived webcast of the conference call will be available over the Internet at www.aehr.com in the Investor Relations section and may also be accessed by clicking here. A replay of the conference call will also be available via telephone beginning approximately two hours after conclusion of the live call and will remain available for one week. To access the call replay, dial +1 877-344-7529 (US and Canada) or +1 412-317-0088 (International) and enter replay passcode 3262937.
About Aehr Test Systems
Headquartered in Fremont, California, Aehr Test Systems is a leading provider of test solutions for testing, burning-in, and stabilizing semiconductor devices in wafer level, singulated die, and package part form, and has installed thousands of systems worldwide. Increasing quality, reliability, safety, and security needs of semiconductors used across multiple applications, including electric vehicles, electric vehicle charging infrastructure, solar and wind power, computing, data and telecommunications infrastructure, and solid-state memory and storage, are driving additional test requirements, incremental capacity needs, and new opportunities for Aehr Test products and solutions. Aehr has developed and introduced several innovative products including the FOX-PTM families of test and burn-in systems and FOX WaferPakTM Aligner, FOX WaferPak Contactor, FOX DiePak® Carrier and FOX DiePak Loader. The FOX-XP and FOX-NP systems are full wafer contact and singulated die/module test and burn-in systems that can test, burn-in, and stabilize a wide range of devices such as leading-edge silicon carbide-based and other power semiconductors, 2D and 3D sensors used in mobile phones, tablets, and other computing devices, memory semiconductors, processors, microcontrollers, systems-on-a-chip, and photonics and integrated optical devices. The FOX-CP system is a low-cost single-wafer compact test solution for logic, memory and photonic devices and the newest addition to the FOX-P product family. The FOX WaferPak Contactor contains a unique full wafer contactor capable of testing wafers up to 300mm that enables IC manufacturers to perform test, burn-in, and stabilization of full wafers on the FOX-P systems. The FOX DiePak Carrier allows testing, burning in, and stabilization of singulated bare die and modules up to 1024 devices in parallel per DiePak on the FOX-NP and FOX-XP systems up to nine DiePaks at a time. For more information, please visit Aehr Test Systems' website at www.aehr.com.
Forward-Looking Statements
This press release contains certain forward-looking statements within the meaning of Section 27A of the Securities Act of 1933 and Section 21E of the Securities Exchange Act of 1934. Forward-looking statements generally relate to future events or Aehr's future financial or operating performance. In some cases, you can identify forward-looking statements because they contain words such as "may," "will," "should," "expects," "plans," "anticipates," "going to," "could," "intends," "target," "projects," "contemplates," "believes," "estimates," "predicts," "potential," "sees," or "continue," or the negative of these words or other similar terms or expressions that concern Aehr's expectations, strategy, priorities, plans, or intentions. Forward-looking statements in this press release include, but are not limited to, Aehr's ability to generate bookings and revenue increases in the future; the timing of Aehr's ability to recognize revenue; future requirements and orders of Aehr's new and existing customers; bookings forecasted for proprietary WaferPakTM and DiePak consumables across multiple market segments; shipping timelines for products and follow-on capacity orders; the growth of Aehr's systems and consumables, including as a percentage of total revenue; financial guidance for fiscal 2024, including related to revenue and profitability, and expectations regarding fiscal 2024; Aehr's ability to expand its number of customers using its FOX-PTM solutions; the ability to secure potential customer engagements and Aehr's plans to meet with potential new customers and end users; expectations related to long-term demand for Aehr's products; market opportunity expansion; the growth and attractiveness of key markets and Aehr's ability to receive orders and generate revenue in the future. The forward-looking statements contained in this press release are also subject to other risks and uncertainties, including those more fully described in Aehr's recent 10-K, 10-Q and other reports filed from time to time with the Securities and Exchange Commission. Aehr disclaims any obligation to update information contained in any forward-looking statement to reflect events or circumstances occurring after the date of this press release.
– Financial Tables to Follow –