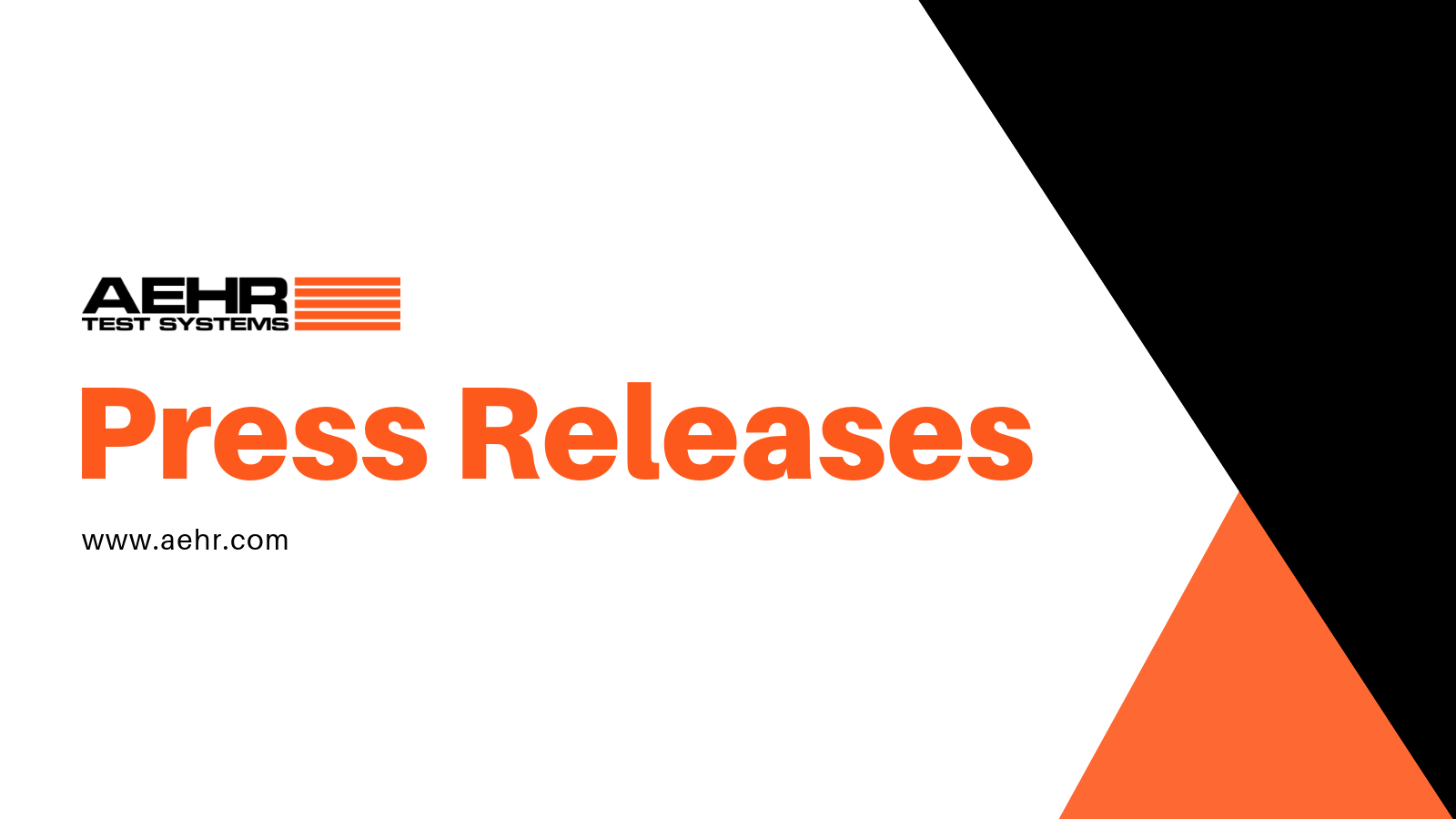 Aehr Test Systems Appoints Gayn Erickson As New CEO
January 3, 2012
Comments Off

on Aehr Test Systems Appoints Gayn Erickson As New CEO
FREMONT, Calif., Jan. 3, 2012 (GLOBE NEWSWIRE) — Aehr Test Systems (Nasdaq:AEHR), a worldwide supplier of semiconductor test and burn-in equipment, today announced that Gayn Erickson, a 23-year veteran of the semiconductor test industry, has been appointed Chief Executive Officer (CEO) of the company, effective January 3, 2012. Mr. Erickson is replacing Rhea Posedel as CEO. He has also been appointed as a member of the board of directors. Rhea Posedel, Aehr Test Systems' founder, chairman and previous CEO, led the search for his replacement and has been appointed Executive Chairman of Aehr Test, effective January 3, 2012.
"I have been with Aehr Test since its beginning, having founded the company 34 years ago, and felt that now was the right time to turn the company's leadership over to a new CEO. We have been fortunate in attracting Gayn Erickson to assume this position. He brings excellent qualifications and experience in the test industry to our company," said Rhea Posedel.
"Today we have the strongest product portfolio in our history with our FOX™ full wafer test and burn-in systems and our ABTS™ family of package test and burn-in systems. Additionally, we recently announced an order for an ABTS system from one of the world's largest semiconductor companies, which we believe gives us a stronger customer base from which to grow our business over the long term. Most importantly, we feel we have a leadership position in the emerging market for wafer level test and burn-in, and I am very confident that Gayn has the industry experience and management skills to take Aehr Test to the next level. I look forward to my new role as Executive Chairman and working with Gayn on strategic plans to further grow our company," continued Mr. Posedel. "I would like to give a special thanks to all my employees and friends who have supported me and Aehr Test over the past 34 years."
Most recently, Mr. Erickson served as corporate officer and senior vice president & general manager of Verigy's memory test business before it was acquired by Advantest Japan last year. Prior to that, he was vice president of marketing and sales for Agilent Technologies' Semiconductor Memory Test products. He has over 23 years of executive and general management, operations, marketing, sales, and R&D program management experience dating back to the late 1980s, when he began his career in semiconductor test with Hewlett-Packard's Automated Test Group.
"I am very pleased to be joining Aehr and excited by the many opportunities we have to grow our company," commented Mr. Erickson. "I have respected Aehr Test's leadership in the semiconductor test and burn-in space for many years, and watched them win key accounts in our industry with their FOX full wafer test systems and contactors. Recently, Aehr Test secured significant evaluations/qualifications of their new ABTS package test and burn-in system and I believe we are in an excellent position to win additional customers with the FOX family of products. This is both a great endorsement of the company's new product and of their ability to emerge from the recent industry downturn with new, highly competitive products that address both the memory and logic test markets. I am confident that Aehr is in a great position to capitalize on the opportunities in test that are developing out of the shift in the semiconductor industry from IT/computing dominated applications to consumer, mobile, and automotive applications. I look forward to working with Rhea and the Aehr Test team to profitably expand our company while continuing to satisfy customers' needs with cost effective, highly reliable, and flexible test solutions."
About Aehr Test Systems
Headquartered in Fremont, California, Aehr Test Systems is a worldwide supplier of systems for burning-in and testing memory and logic integrated circuits and has an installed base of more than 2,500 systems worldwide. Aehr Test has developed and introduced several innovative products, including the ABTS, FOX and MAX systems and the DiePak® carrier. The ABTS system is Aehr Test's newest system for packaged part test during burn-in for both low-power and high-power logic as well as all common types of memory devices. The FOX system is a full wafer contact test and burn-in system. The MAX system can effectively burn-in and functionally test complex devices, such as digital signal processors, microprocessors, microcontrollers and systems-on-a-chip. The DiePak carrier is a reusable, temporary package that enables IC manufacturers to perform cost-effective final test and burn-in of bare die. For more information, please visit the Company's website at www.aehr.com.
Safe Harbor Statement
This release contains forward-looking statements that involve risks and uncertainties relating to projections regarding customer demand and acceptance of Aehr Test's products. Actual results may vary from projected results. These risks and uncertainties include, without limitation, acceptance by customers of the ABTS technology, acceptance by customers of the ABTS systems shipped upon receipt of a purchase order and the ability of new products to meet customer needs or perform as described. See Aehr Test's recent 10-K, 10-Q and other reports from time to time filed with the Securities and Exchange Commission (SEC) for a more detailed description of the risks facing our business. The Company disclaims any obligation to update information contained in any forward-looking statement to reflect events or circumstances occurring after the date of this press release.

Contacts:
Aehr Test Systems
Vernon Rogers
EVP Sales and Marketing
(510) 623-9400 x215
vrogers@aehr.com
MKR Investor Relations Inc.
Todd Kehrli or Jim Byers
Analyst/Investor Contact
(213) 277-5550
aehr@mkr-group.com