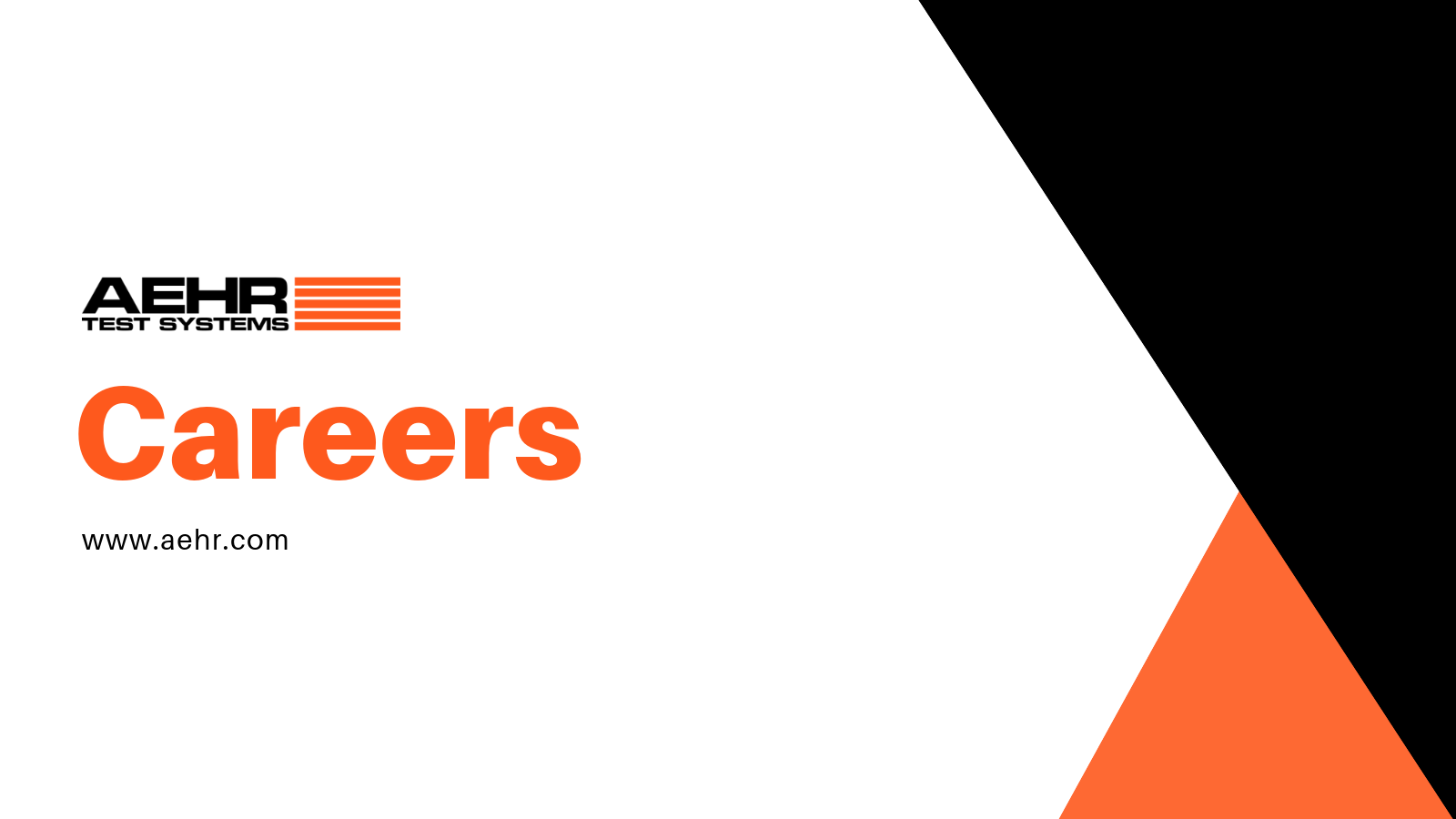 Senior Quality Engineer
August 17, 2021
Comments Off

on Senior Quality Engineer
Aehr Test Systems (NASDAQ: AEHR) is a market leader in the Semiconductor Capital Equipment Industry, providing advanced solutions for semiconductor Burn-In and Test. Our innovative single touchdown full wafer burn-in and massively parallel test systems are revolutionizing the industry. Come join our team! We are seeking detail-oriented individual, with excellent organizational skills, to fill our immediate opening for a Senior Quality Engineer to join our team.
Summary:
The Senior Quality Engineer will facilitate and support problem solving activities aimed at identifying and resolving supplier, manufacturing, quality, and customer reliability issues.  This requires a strong understanding of quality and statistical tools, and experience in their practical application.  Employee will be expected to make decisions supported by data analysis and thorough investigation.
This position must interface effectively, and build cooperative working relationships with AEHR departments, key suppliers, and AEHR customers.  The Sr. Engineer is expected to promote and support a culture focused on ensuring product conformance, process compliance, and an overall focus on customer satisfaction.
Responsibilities:
Leads product, process and customer issue resolution during all phases of the product life cycle using tools such as 8D, Six Sigma DMAIC and Statistical Process Control to ensure effective corrective and preventive action and closure within timing goals;
Defines and specifies the implementation of standards, methods, and procedures for inspecting, testing, and evaluating products to established standards and customer specifications;
Leads 8D Problem Solving Teams in the failure analysis, root cause investigation, corrective and preventative action activities for manufacturing defect resolution;
Participates on New Product Development Teams (development of FMEA and Control Plans, data collection and analysis, etc.);
Participates in "Release to Manufacturing" efforts;
Participates in continuous improvement (Six Sigma Black Belt and lean manufacturing projects) within assigned manufacturing areas;
Develops, analyzes, and reports statistical data, relative to quality systems performance and implementation;
Supports and maintains failure analysis process;
Participates in material disposition decisions and reviews the status of blocked stock materials;
Responsible for conducting gauge R&R activities and the development and implementation of improvements to meet measurement system performance specifications;
Authors and/or reviews Standard Quality Operating Processes, work instructions, test specifications, and other documents for accuracy (Microsoft Office);
Participates in material disposition decisions to support ongoing production for areas of responsibility.
Manages the Supplier Quality activities.
Qualifications:
To be successful in the role and at AEHR you will need:
Bachelor of Science degree in a technical discipline with a minimum of 5 years' experience as a quality engineer in a manufacturing environment;
Experience with applicable quality tools such as FMEA, SPC, DOE and analysis tools such as: histograms, pareto, process mapping, cause and effect diagrams, 8D problem solving & Six Sigma methodology;
Experience in project management, leadership and collaboration with cross functional departments including R&D, Product Management, and Process Engineering;
Intermediate to advanced knowledge of Applied Statistics;
Basic user knowledge of PLM & MRP quality and purchasing functions;
Intermediate experience using Microsoft Office, MS Excel Analysis Tools, and Minitab statistical software;
Ability to travel domestic and international.
Experience implementing an ISO compliant Quality Management Systems